Tonka Fastpitch is for girls ages 5-18 years of age.  See Age Eligibility Chart in Quick Links below.
Email: Fastpitch@tonkasoftball.org
USA Softball has adopted a new age cut off starting Fall of 2023.  Tonka Fastpitch is giving the option for birth dates marked in * to stay in their current age group or move up to the next age group.  There may be several reasons why one player may choose to stay down and several reasons why one player may choose to move up.
*Whatever division chosen in the fall is the division your player will play in the spring unless they are choosing to move up.  For example, if you choose to have your player play 12U but she was eligible to play 10U, come spring she will have to play 12U (can't move down).  However, if your player chose to stay in 10U in the fall but decided to play 12U in the spring, we will grant that move.
If you have any questions about the Age Eligibility Chart, please email fastpitch@tonkasoftball.org.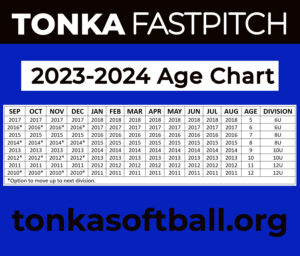 Yes.  If for some reason your player is unable to attend both days of tryouts, please email fastpitchdirector@tonkasoftball.org
AFTER Aug 7 tryout week, Tonka Fastpitch will start gathering interest in a 14/16/18U team.  Please join the appropriate GroupMe to stay informed.
Typically 14-18U players play for their high schools, and the season ends for most high school players at the end of May.
Follow Us On Social Media