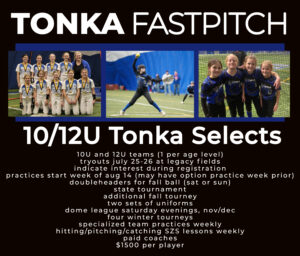 Tonka Selects was introduced in the Fall 2021 with great success.  This program is for players seeking off season development with a team if their Tonka peers.  This team is formed during Fall tryouts.  They play together for the fall season, and additional fall tournament, a winter dome league, and multiple winter tournaments.   The team will have a paid coach, skill specific training by specialized instructors.  
The cost for Selects is $1500.
TONKA Selects 
12U Coaches: 
Kelly Wischmeier – Tonka Softball President, experienced coach
Whitley Wischmeier—18U club player, varsity high school player, C/3B/1B
Izzy Guttenfelder—18U club player, varsity high school player, OF
10U Coaches: 
Ellie Collins – 18U club player, varsity high school player, SS (pitcher & catcher at 10U)
Lauren Volling - 15U club player, varsity high school player, C/SB/SS
TBD - parent/adult experienced coach assist 
Tryouts:
July 25-26 at Legacy *12U may have July 27th call back
Season:
August-March* (possible end of season tourney in April)
Roster:
Ideally 12 players (3-4 pitchers*, 2-3 catchers*) 
Dates We Know:
Fall Ball Practices (1-2 times per week), starting week of Aug 14 (may have optional Aug 7th week)
Fall Ball Doubleheaders Aug 20, 27, Sept 10, 17
State Tournament Sept 24
Martin Luther King Day Tournament, Jan 15
Presidents Day Tournament, Feb 19
Dates We Do Not Know (yet):
Turkey Trot Dome Tournament (1 day tourney over Thanksgiving break)
Winter Bash Dome Tournament (2 day tourney over Winter break)
Nov/Dec Dome League Doubleheaders around 4-10pm
Additional Fall Ball Tourney (choose one)
Weekly Practices Nov-Mar (Pitching, Catching, Hitting with Strike Zone Sports (SZS) & Team Practices)
Optional Iowa Tournament, early April (not included in selects cost - will be additional out-of-pocket)
FAQs
How are teams formed?  
During fall ball tryouts.  Unlike fall & spring, pitchers & catchers that choose placement as a pitcher or catcher during tryouts CAN be offered a P, C, OR U spot on Selects and will have the choice whether or not to take the offered spot.  IF a pitcher or catcher makes Selects as a Utility, they are not guaranteed any P or C time in games, but WILL be eligible for all SZS specialized P&C training.  If not chosen for the Selects team, players will AUTOMATICALLY be placed on a fall ball team & eligible for a dome ball team placement.  Players chosen for a Selects team will have 12 hours to accept and pay their deposit.
Can a multi-sport athlete do this?  
Yes, that is why the roster size is larger.  FYI, the more your player puts into the practices and training, the more she will get out of it.  If your player struggles with 4-5 nights a week of planned activities, or multiple hours of activity a night, this may not be the best option.
Is there fair/equal playing time?
Fair, yes.  Equal, no.  Pitchers/Catchers will play based on performance, but we are still working on developing all pitchers and catchers.  There will be games that players do not get to play their favorite positions.  The doubleheaders will be used to work on development.  The tournaments will be treated as "play to win".  No player will sit the bench through an entire game.
Is there an option to opt out after we learn of their schedule for their in-season sport?
In most situations, no.  We want this team to be intact for the season. We will do the best we can to work with your player's schedule.  If we find that it is not feasible, we can talk about options.
What are the team-specific practices like?
These practices will be designed to work on defensive and offensive strategies, skills and drills, baserunning, sliding, etc.
What are the hitting, pitching, and catching lessons like?
Strike Zone Sports will be conducting these lessons.  We have not finalized plans, but the price is built in.  Looking at Monday nights right now.  If your player is a pitcher, she will do 1 hour of pitching and 1 hour of hitting.  If your player is a catcher, she will do 1 hour of catching and 1 hour of hitting.  
Is my player eligible to join other Tonka Fastpitch Clinics?
There will be other evenings where pitching/catching/hitting/skills lessons are offered by instructors.  Selects players may attend, but these clinics will be out-of-pocket.  
What am I getting for $1500?
Paid coaching, extra uniform combinations, specialized hitting, pitching, catching instructions, tournament play, consistent coaching to prep your player for the next season and beyond.
10U Selects 2022-23 Season
10U Selects
Coaches: Whitley Wischmeier, Izzy Guttenfelder
Players: Brooklyn Bryant, Audrey Bennowitz, Claire Price, Lizzy DeRock, Reagan Dooley, Riley Rienstra, Evy Dunlap, Quinn Prust, Rayla Bastian, Nisha Makinen, Tanyn Hochbaum, and Annabel Kirchoff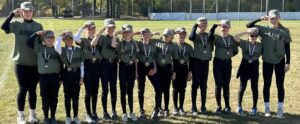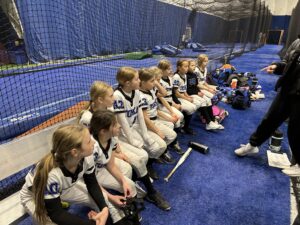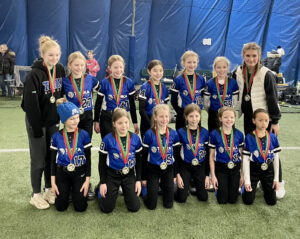 12U Selects 2022-23 Season
Coaches: Marit Schultejans, Ellie Collins, Jesse Steinwand
Players: Reese Keating, Lauren Dooley, Brynlee Steinwand, Lizzy Scholtec, Kylie Ross, Viv Deibel, Vivian Jandro, Brooklyn Siefert, Brynn Flaherty, Sophia Roitenberg, Nyla Coplan, Audrey Senescall.